So, we have not been keeping up with our promise of updating the blog regularly!  This post is all about Cameron's second month.  Enjoy!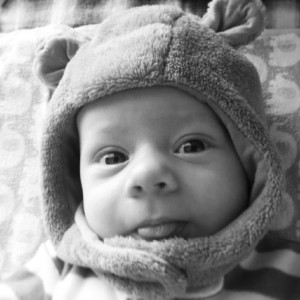 The past month has been filled with lots of visitors at the Jones home!  It was definitely a revolving door of people coming in and out, but we loved showing off our little man to everyone.  Many of my friends left the warmer climate of the southern midwest to visit us.
Krystle and her fiance, Zac, traveled from Chicago and Evansville, IN the weekend of Cam's first month birthday.  During the visit, Cameron went to his first Sunday brunch.  Thankfully, it was loud in the restaurant and no one noticed that he was crying!
My friend, Colleen from Indianapolis, arrived the day Krystle and Zac left.  She spent the week snuggling Cameron and ultimately got Andrew and I hooked on watching the tv show, Scandal.  (Sidenote: You should definitely watch it, if you don't!)
My friends, Meli and Sarah, were supposed to visit with their kids, but Sarah's son was sick and we decided it was too risky to have him around Cameron.  Cam is looking forward to meeting his friends, Cooper and Charlotte, in June!
Cameron was able to meet the Nevers' twins this month.  Emily and Lucy seemed a little unsure of the new little person, but eventually Lucy warmed up a bit.
A week later, we welcomed Grandma Sue, Grandpa Norm, and Aunt Erica for a weekend visit.  Needless to say, Cameron got a lot of love and snuggles!  He loved all of the attention.  They were able to see how much Cam had developed and GREW since they saw him at birth.
Cameron loves to smile!  He has become a lot more observant and watches to see where mommy or daddy are at all times.  Cameron loves playing on his activity mat, dancing to music, and looking at books.  His new favorite book is "Chicka Chicka Boom Boom".  He likes to snuggle with his puppy dog lovie named Eddie. He is wearing size 3 month clothing with mommy stretching out any clothing that has feet attached (they have quickly become too short!).  Cameron has also become a better sleeper at night.  His longest sleep stretch is usually around 6 hours.
Cameron had a great 2 month appointment.  The doctor was very pleased with his growth and overall development.  The biggest dilemma we have at this point was trying to get Cam to drink from a bottle.  He hasn't been too keen on the idea and I will be going back to work in May, so it is important that we get that going.  Here are the 2 month stats for Cameron:
Height: 25 inches (98th percentile)
Weight: 12 pounds, 10 ounces (73rd percentile)
Head Circumference: 16 inches (67th percentile)
As you can see, Cam is a GIANT baby! 😉  He's not very chubby, but is very long!
Andrew was able to travel to Houston, Texas for our friends, Jenny and Milan's wedding.  Cam and I stayed home as he was still a bit young to fly.  Andrew had a fantastic time.  Based on all of the photos shared on Instagram and Facebook, it looked like an absolutely beautiful wedding.  Andrew may share more pictures later, but here's one of him with Milan: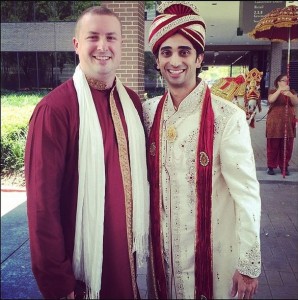 We'll end the post with this picture of Cam in his new shades.  He got his Babiators from Aunt Erica.  He loves going for stroller rides which was another first this month.  Hopefully the crazy Minnesota weather will make it's mind up soon and get warm.  We are definitely ready to enjoy the outdoors!