Week 23 has been a great one!  Andrew and I have enjoyed all of the little kicks and movement Baby Jones has made this week.  We are feeling more and more confident on the name we have picked out (although it will stay a secret until Baby is born).  It has been a lot of fun planning the decorations for the nursery and knowing that in less than four months we will have a sweet little boy in our arms.  We also registered to attend birthing classes and breastfeeding class at our hospital.  Hopefully both classes will provide some more information and support as we embark on unfamiliar territory of caring for our little guy.
Here's the bump photo for this week: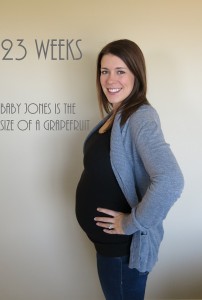 Here's what Baby Jones is up to this week: 
Baby is about the size of a grapefruit.  At this point the baby blogs have ranges for expected baby weight and height, so it's all a guess.
Baby is developing nipples.
Baby will be packing on the pounds in the next weeks to come.  The fat will help fill out his face and body more.
Here's what is happening with me this week: 

Symptoms
Highs and lows in my energy.  There are days in which I am full of energy to stay up later and get more things done around the house.  I still have days in which I'm exhausted.  The exhaustion has changed from physically and mentally being tired to mostly just feeling worn out, but unable to take a nap.
"Pregnancy brain" has been a symptom since I've been back to work.  I have found myself forgetting words mid-sentence all the time.  Thankfully, I work with a lot of women who have gone through the same experience and are very understanding.
Bending over is becoming even more of a challenge.  Baby is sitting very, very low which has thrown off my center of gravity and makes bending over and getting up from sitting to be more of a challenge.  Baby also seems to enjoy pushing on my bladder all the time.  The number of restroom trips I take have exponentially increased.
Food Aversions
Food Cravings
1 week until I see my parents and get some of my momma's famous home cooking!!! I can't wait!
Sleep
Sleeping is going well except for waking up every two hours to go to the bathroom.  My life has changed so much that I look forward to nights when I make it three or four hours without waking up to go to the bathroom!
Other Updates
Andrew painted the nursery this week!  It was his first time painting a room on his own and he did a fantastic job!!  The room is a light gray.  Andrew came up with the great idea of adding some stripes to one of the walls.  He is hoping to add the stripes after work this week.  The stripes will be an aqua blue.
We have an appointment with our midwife on Friday morning.  We will also be flying to Indiana early Friday afternoon.  We will be returning on Monday so the next post will be a few days late.  I am hoping we can get a baby bump picture at the Indiana University football game.  Make sure to cheer for the Hoosiers on Saturday as we compete against the Minnesota Gophers! 🙂