Wow!! I am very late with this post.  So please keep in mind that this update is for last week.  On Friday, November 1, Andrew and I met with our midwife to have our routine monthly prenatal visit.  The baby's heart rate was perfect and my baby bump was growing nicely.  Our midwife said that my baby bump is measuring at 25 weeks, so it appears that  baby is still about a week bigger than his due date.  My due date won't change unless he were to measure two or more weeks larger than the current due date.  We also scheduled to attend birthing classes, a hospital tour, and a breastfeeding class during December.
After our wonderful appointment on Friday, Andrew and I loaded the car with our luggage and headed to the airport.  We flew to Indiana for our weekend of fun!  We spent Friday and Saturday nights in Bloomington, IN enjoying the college spots and IU football game with friends.  Unfortunately, the Hoosiers were defeated by the Minnesota Gophers on Saturday.  It was so cold during the game that I actually had to leave at half-time because my hand was turning blue!   It's interesting to see how your body changes and is effected in different ways when pregnant.  Here are a few pictures from the tailgating at the football game:
On Sunday, we traveled back to Indianapolis for my first baby shower.  A BIG thank you to Sarah Puckett and Meli Drier for hosting "The Hungry Caterpillar" themed baby shower.  It was so special to celebrate my pregnancy with my friends and family.  Baby Jones is already been spoiled by the wonderful gifts!  Here are some pictures from the wonderful event:
After the shower, Andrew and I rode with my parents back to their house.  We spent the rest of Sunday and Monday with my parents.  They drove us back to Indianapolis Monday afternoon for our flight back to Minneapolis.  In the short four day weekend, we flew 1,200 miles and drove 320 miles by car.  It was a whirlwind weekend, but so much fun!  Andrew and I were both exhausted by the time we got back home.  We are so thankful and blessed to have amazing friends and family!
Last but not least, here is the baby bump photo for week 24.  It was taken at the tailgate lots at Indiana University!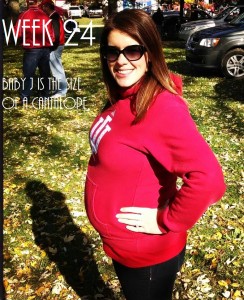 Here's what Baby Jones is up to this week: 
Baby is the size of a cantaloupe.
Baby is rapidly gaining weight.  He gained approximately 4 ounces just this week!
Baby's brain and lungs are developing.
Here's what is happening with me this week: 

Symptoms
I have started to notice more challenges in getting around and moving quickly.  I have started to figure out different ways to get my boots on and get out of bed in the morning.  Nothing happens as quickly as it used to.  Stretching and yoga seem to help!
My appetite is still large, but I've noticed I can't seem to eat as much as I could a few weeks ago in one sitting.  Baby is taking up more room now leaving less for my stomach (and bladder!!).
Food Aversions
Food Cravings
The ultimate pregnancy craving was fulfilled!  On Monday morning, we made biscuits, sausage gravy, bacon, and fried potatoes at my parents' house.  It was DELICIOUS!!  My mom had just had surgery on her elbow, so Andrew, my dad, and I helped too.  It was DELICIOUS!! I was very disappointed with the small amount I could eat.  I was hoping to eat at least two servings, but it did not happen!

Sleep
Sleep is great!  I wake up often, but always fall back asleep.
Other Updates
Andrew and I put together the crib and changing table when we returned from our Indiana trip.  Andrew will be posting a blog regarding the nursery progress soon!  🙂
We have our next doctor's appointment on November 27th.  I will have my glucose test as well during the appointment.  Beginning in December our prenatal visits will be every two weeks.