Wow, I really didn't expect to have to write a post for week 39!  It has been another interesting week as the doctors continue to monitor baby's heart rate.  We had our 39 week appointment on Monday along with another nonstress test.  The nonstress test is used to measure the baby's heart rate as well as any contractions.  Each time the baby moves, I press a button and the doctors review the information following about twenty minutes of being hooked up.  During our monitoring, we have constantly had the doctor or nurse at our side reviewing more closely than with other ladies who are being monitored.  Although his heart rate was measured below the normal range, he showed great accelerations when he moved.  Andrew and I also discovered that if we talk to baby, his heart rate goes up.  (We have tested our hypothesis over 4 different monitoring sessions and it's proven true every time!)  Baby definitely recognizes mommy and daddy's voices already.
Work has proven to be a challenge at this point as the students I work with have become increasingly aggressive and the amount of time I'm on my feet have led me to become exhausted by the end of the day.  My feet, ankles, and legs are also becoming very swollen.  I can only fit one pair of shoes at this point with no socks.  (My feet have gotten pretty cold walking through the snow the past week or so!)  I had another doctor's visit on Friday and she recommended that I begin my maternity leave.  I was scheduled to work at least through this Wednesday (2/19), so I am starting my leave three days earlier than planned.  Although it is hard to walk away from work and my students, I think it's the right thing for baby and me.  During our Friday appointment, the doctor had trouble finding baby's heart rate using the hand held doppler.  We were monitored again and once again sent to triage on the Labor and Delivery floor.  Baby was monitored for approximately an hour and had another biophysical profile ultrasound.  His heart rate was measuring lower than the week before when we were in the same triage room, but he continued to have a perfect score on his ultrasound.  I was hoping that the doctor would suggest inducing me so that we could have our little guy out and no longer worry about his heart rate, but it was not an option they wanted to consider yet.  I have not dilated at all and there are other risks associated with inducing when my body is demonstrating that it's not quite ready.  The good news is there are no signs that baby will have any heart problems once he is out of the womb.  Thank God!
We are hoping that lots of relaxation, rest, and walking can help persuade Baby Jones to arrive!   We are SO ready to meet our little guy!!!
Here's the baby bump photo for week 39: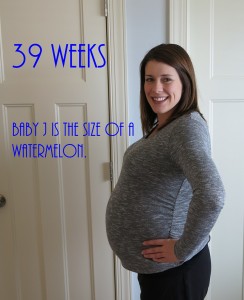 Here's what Baby Jones is up to this week: 
Baby can flex and move his arms and legs.  He startles mommy a lot with kicks and punches in her ribs.
Baby's brain continues to develop.  He's already one smart cookie!
Baby's fingernails could be past his fingertips at this point.  We have the nail clipper in our hospital bag.
Here's what is happening with me this week: 

Symptoms
Fatigue, I'm tired all the time!
Swelling in my ankles, legs, and feet.
Carpal tunnel symptoms!  I wake up every night with numbness, tingling, and shooting pains primarily in my right arm.  I'm usually awake for an hour or two until the Tylenol kicks in so I can go back to sleep.  The doctor said it should go away after the pregnancy.
Food Aversions
Food Cravings
Salad (especially salad bars)
Black beans
Skinny Cow fudge bars
Outshine Lemon Fruit Bars
Water
Sleep
Sleep is the same.  I wake up for an hour or two every night dealing with my wrist/arm, feeling the baby move, and trying to find a comfortable position to lay.  I've gotten used to being awake and I compensate by going to bed earlier.
Other Updates
We have our 40 week appointment on February 19th.  We will have the nonstress test before we meet with Dr. Ritter.
Baby Jones has become quite the celebrity in the clinic and hospital.  Most of the nurses and doctors have looked at his heart rate strips and chatted about our little guy.  Everyone has been supportive and caring.  We're excited to see which doctor and nursing staff ends up working during our delivery!
Here are a few more pictures!