It's been an eventful week.  Andrew here,  Leslie has asked me to complete the weekly blog post because she's worn out!  I'm happy to help!
Leslie's school actually had a full 5 days this week, but as some of you may know, she didn't participate in all of them.  We had our 38 week appointment with Dr. Ritter and things were going great.  We started out with Leslie learning what a "contraction" was.  For the past few weeks when prompted to the frequency of any contractions she kept denying that she was having them, instead referring to them as "pains" or other things she looked up on the internet.  The doctor informed her that these "fake" pains were in fact what is commonly known as a contraction in the OB/GYN world.
Unfortunately, this week the doctor had some trouble listening to and finding our guy's normally strong heart rate.  We needed to stick around for an extra non-stress test following our appointment.  With results still lower than what the doctor would have expected, we walked across the hall to the Labor and Delivery wing.  Here we found ourselves in a familiar area, as we had been here once before for a brief scare.  We continued monitoring baby's heart rate and again the results were all over the place.  Baby was very active throughout, so that was reassuring, but still the doctors were not content with what they were seeing.  This led to us being admitted and then to us spending the night.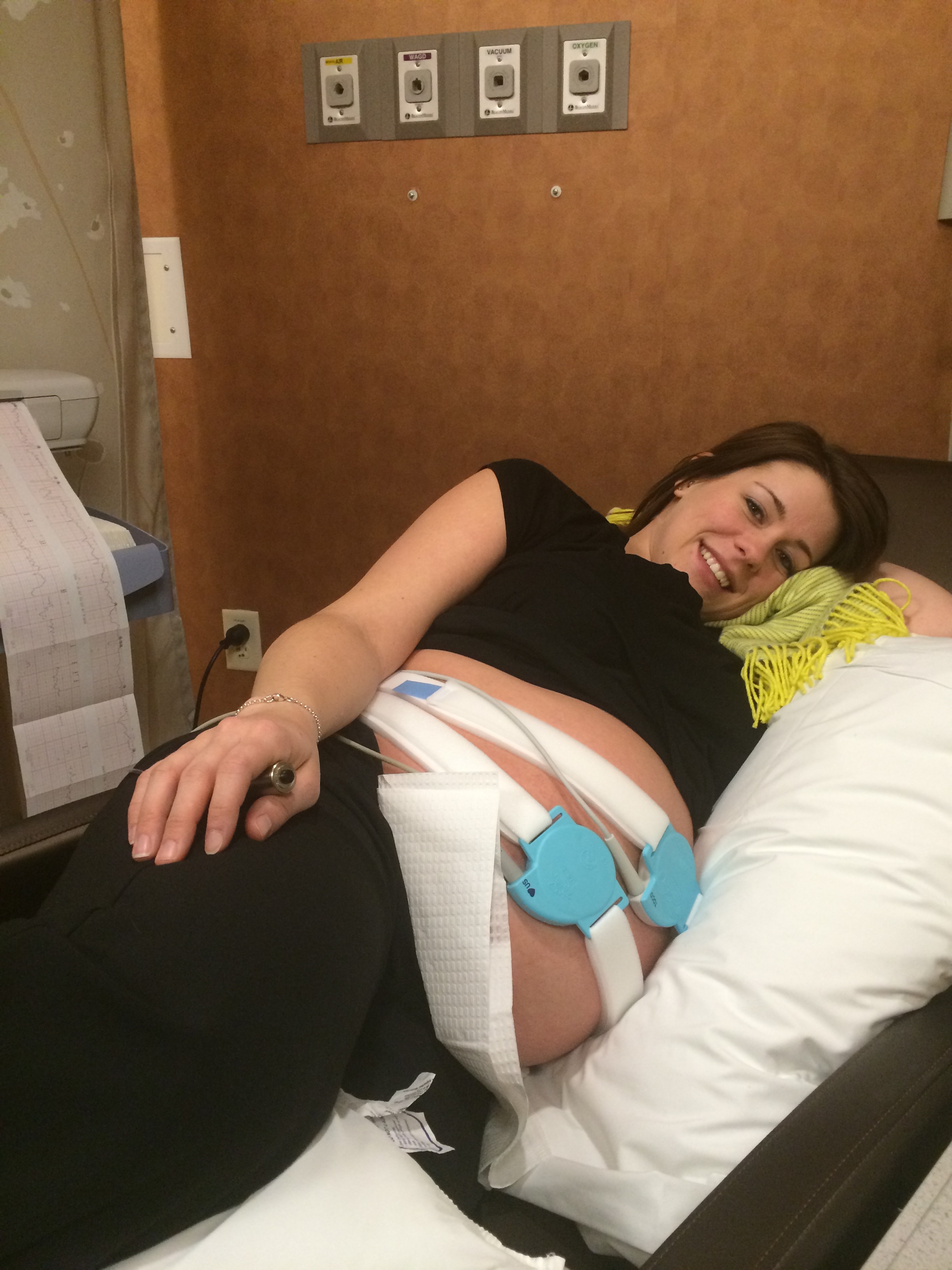 Call it a trial run.  Once they had a room available for us, we found ourselves in the room we had toured in class just a couple weeks ago, kind of surreal that we knew where everything was already.  Leslie was able to get a little more comfortable, but after 8 hours of laying in one position or another connected to the monitors, needless to say she wasn't very comfortable.  We got two more ultrasounds to confirm that the little guy was doing ok.  He scored an 8/8 both times on the Bio Physical Profile (BPP).  The doctor still considers his low baseline heart rate something to monitor, but nothing to be worried about.  There as of now are no implications to our birth plan.  I contend that he's just been an active little athlete in Leslie's belly, thus having that lower heart rate.  Another train of thought is, he's simply more mature at this point than what our estimated due date would indicate.  We were discharged the next morning around 10:30 am, capping a longer than expected 3:00 pm checkup from the day before.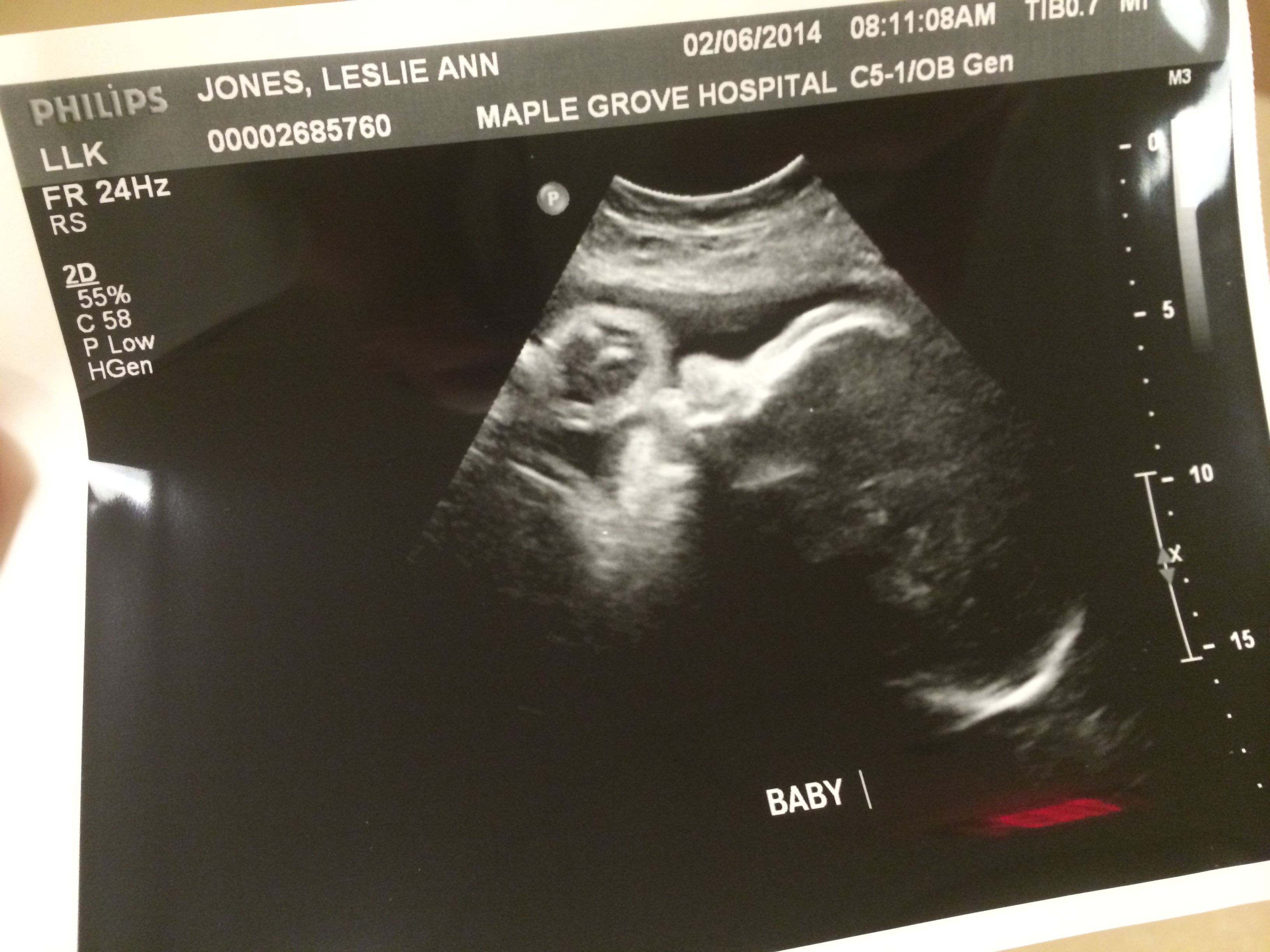 We spent Thursday catching up on sleep and getting plenty of rest.
Here's the bump photo for week 38!  What a transformation!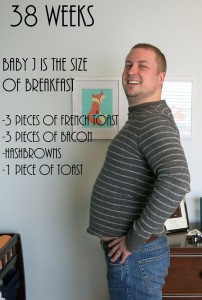 Here's what is happening with me this week: 
Symptoms
Sleeping on the couch in Leslie's hospital room hasn't done my neck any favors.  Thankfully I was able to get into the chiropractor to get it straightened out.  Whew!
Food Aversions
Salads and their dressing
Fish
Ethnic food
Food Cravings
Four cheese baked ziti, inspired by a recipe once cooked by Jennifer Nevers (this is your shoutout Jennifer)
Pizza
Bacon Cheeseburgers
Sleep
I've been sleeping very well, sometimes Leslie disturbs me in the middle of the night with her tossing and turning, but for the most part I simply ignore her and go right back to sleep.
Other Updates
After surviving the layoffs at Target, I'm pleased to report this is my last week of working in downtown Minneapolis.  Target's IT campus will move to a location approximately 2 miles from our house.  My new total commute will be approximately 5 minutes door to door.  I'll be close by to Baby J and Mom while they're home getting to know each other better.
We have another doctor appointment Monday and another non-stress test scheduled to see if anything has changed.
We had our first visit from the cleaning lady.  WOW!  Worth every penny.  I hope this leads to a stress-free weekend for Leslie.
The last of our baby gear is arriving from Target everyday.  We will get our car seat inspected on Tuesday.
EDIT: Apparently this is not what Leslie meant by me writing the blog in place of her this week.  I have interviewed Leslie to find out how she's feeling.
Here's the baby bump photo for week 38: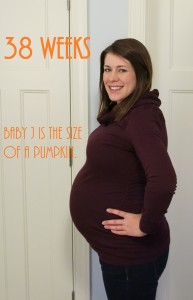 Here's what Baby Jones is up to this week: 
Baby's organs should be mature and ready for his big day.
Baby's hair could be an inch or so long.
Baby continues to pack on the ounces.
Here's what is happening with me this week: 

Symptoms
Pressure in her low parts.  Baby is trying to find an escape route.
Cankles.  (It's when your calves and ankles become one)
Heartburn.  (I've never had this)
Leslie's schedule mimic's that of an infant.  Return home, nap, get fed, go to sleep for an hour, potty.
Food Aversions
Food Cravings
Salad (especially salad bars)
Skinny Cow fudge bars
Outshine Lemon Fruit Bars
Water
Sleep
Tired all the time.  Still smiles.
Other Updates
Leslie has a new baby kick counter on her phone.  The doctor told her to monitor kicks which she should feel 10 in 2 hours.  I don't think she's made it past 45 minutes yet.  He's active, ok!