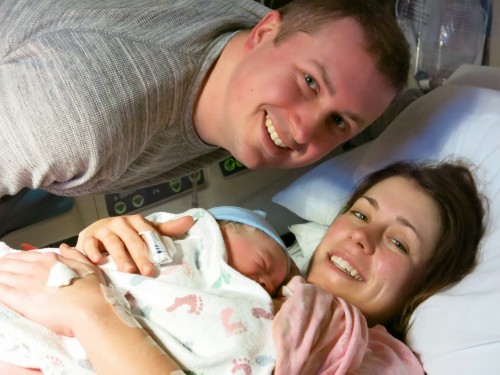 There's so much to recap in the story of Cameron's journey, but we felt it might just be simpler to share a simple video for those of you that weren't able to be with us.
The short story goes something like this.  We had our 40 week appointment on Wednesday, February 19th with our doctor and there was just not enough progress being made down under.  Leslie most likely could have gone a couple extra weeks, but with factors like Cameron's low heart rate and the coincidence that our doctor happened to be the one on call the next two days she seemed to want to accelerate things.  She told us to go home, have a nice dinner, and call back in an hour or so to confirm our reservation for the evening over in Labor and Delivery.  We had a quick dinner at Champps and loaded up our gear for the hospital.  The process of inducement carried on through the evening, and through the next day entirely.
Note from Leslie: You may notice in some of the photos that Cameron had an IV port in his hand or head.  Following 20 hours of induction, the doctor manually broke my water.  Immediately after she broke my water, my labor began.  During labor I developed an infection in my uterus.  The protocol for infections that develop during labor is to treat the baby in the special care unit (NICU) as soon as they are born to begin antibiotics and test for any infections.  Cameron had to spend the first 12 hours in the special care unit (mommy and daddy spent much of the time with him in his little room).  He was monitored by the special care staff, but thankfully did not test positive for any infection.  Cameron has been strong and healthy from the start!  
The results are summed up in the video below.  We're happy to present Cameron!
I had some issues hosting this video, so if you feel the desire to watch it OVER and OVER (*cough* Grandma's) go ahead and download it.
Right click on the link below then select "Save link as".
Cameron's vital statistics:
Born: Friday, February 21, 2014 at 3:07 AM
Weight: 7 lbs 15 oz
Height: 22 in
I hope you will continue to enjoy our blog as we watch Cameron grow.