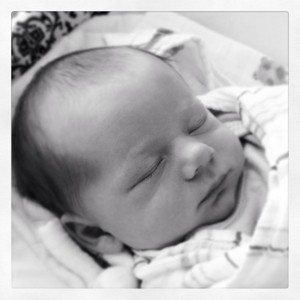 What a week!  Andrew and I were able to bring our little bundle of joy home with us when I was discharged from the hospital on Sunday, February 23rd.  Thankfully Andrew and I have survived the first week of having a newborn at home learning about his cues, how to care for him, and becoming more confident in our abilities.  This week has been one that has lacked sleep but has been full of love.
On Tuesday, February 25th, we spent about 4 1/2 hours at the pediatrician's office as Cameron had his newborn appointment and circumcision and I met with a lactation specialist.  The whole process was very time consuming and tiring for our little family.  We had left that day at 12:30 and didn't arrive home until 6:30.  Thankfully, Cameron had a great appointment and was gaining much of his weight back that he had initially lost after birth.
On Wednesday, February 26th, we had another busy afternoon!  We picked Mamaw New up from the airport as she was visiting for the week.  She was so excited to meet her first grandson!
We had also scheduled Cameron's newborn photos to be taken that evening.  Although he wasn't feeling too well during the photography session (one day after the circumcision and a gassy tummy from milk), the photographer was able to get some amazing photos.  We will have all the of photos soon, but here is a preview: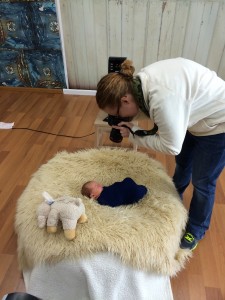 The rest of the week was spent hanging out at home and resting.  Here are a few more photos from week 1: