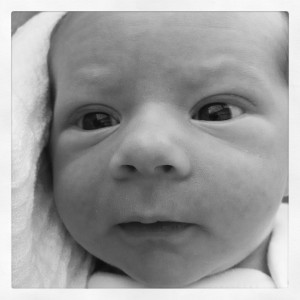 Week 2 has brought more sleep, smiles, and love!  We are getting used to falling asleep to whale and ocean sounds from Cameron's sleep sheep (white noise machine) as well as waking up throughout the night.  Andrew and I take turns rocking him to sleep and changing diapers.  We are getting faster with the diaper changes as well!  🙂 Cameron loves his colors and animals board books. He likes looking at himself in the mirror and sleeping on mommy or daddy's tummy and in his swing. Cameron is sleeping longer between 2 to 3 hour stretches at night.  He is doing a great job eating as well.
This week we also celebrated Mamaw New's birthday!  I think she may say it was one of her favorite birthdays in quite some time.  Although the name mamaw, is very common in Indiana and other "southern" states, it seems that no one in Minnesota has ever heard of the term.  I had to tell the baker two times how to spell it as she decorated the birthday cake!  On Wednesday, March 5th we sadly had to say goodbye to Mamaw New as she had to fly back to Indiana.  It was a great help to have her with us for a week.  Andrew and I were spoiled by the help with housework and her delicious cooking.  Cameron loved all of his snuggle time.
Upcoming Events: 
Cameron's next pediatrician appointment is on Tuesday, March 11th.
Cameron's aunt Erica will be visiting soon to get in on the snuggle action.
Tummy time is starting and a video of how strong he is will be added on next week's update.