This week's post is named after a Jones favorite, Bon Jovi's "Livin' On a Prayer".  Andrew loves singing this song when playing Rock Band with friends.  I recall a few nights when we still lived in separate states that he would call and sing this song to me.  (He's quite the singer!)  Ok, back to the baby…we are officially half way through the pregnancy!!  I know I've said this in the past, but I cannot believe how quickly it is going by!  I have LOVED being pregnant and it just seems that each week gets better and better.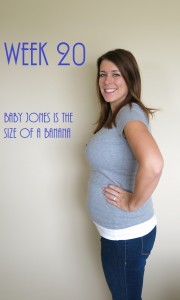 Here's what Baby Jones is up to this week: 
Baby has been growing this week.  He/she is now 10 1/2 ounces and 10 inches long!  Don't be too surprised, baby didn't grow 4 inches in just one week.  Measurements are now taken from head to heel rather than crown to rump.  Baby's legs are straightening out more so we will be using the head to heel measurement.
Baby is beginning to swallow.  Once baby gets a little bigger, I may be able to feel when he/she hiccups.  If baby is anything like his/her momma, I will be feeling hiccups a lot!  Andrew rarely gets hiccups, so we shall see who the baby takes after.
Here's what is happening with me this week: 

Symptoms
Round ligament pains.  My poor students have witnessed me wince in pain after getting up too quickly from sitting at the table.  I play it off, so they don't seem concerned.
I am feeling less tired this week and have been trying to stay awake until I go to bed.  It seems to be helping.
I am feeling lots of baby movements especially in the evening when I am sitting on the couch.
Food Aversions
Food Cravings
My mom's biscuits, sausage gravy, and fried potatoes!!!  I CANNOT wait until she can make me the whole spread.  I have tried to make it myself, but it never turns out right.  I have yet to find a restaurant in Minnesota that knows how to make proper biscuits and gravy.  If you know of any places, please let me know!
Sleep
I wake up at least twice per night to use the restroom.  (My bladder seems to have shrunk.)  Otherwise, sleep is going well!
Other Updates
Andrew felt the tiny movements of the baby!!  It was very exciting for him and something I'm glad I could finally share.
We have our BIG 20 week ultrasound and appointment with the doctor on Tuesday, October 8th.  We are looking forward to seeing our happy, healthy little one as well as find out if we have a HE or SHE!
Here is another shot of the baby bump!  Baby seems to love wearing Indiana sports gear!