Happy week 27!!  It is the last week of my second trimester.  I cannot believe I am already close to starting my third and final trimester!  I have to say our little guy is moving like crazy!  He loves to kick, flip, and do all sorts of fun acrobatic moves in my tummy.  I have even watched my stomach jut or move quickly as he makes his moves!  My students at school have started asking more questions regarding my pregnancy.  One of my students even touched my stomach this week (he did it before I could stop him).  He then said, "Mrs. Jones, your tummy is really hard!".  I reminded him that it was hard because the baby is making it grow and it's not just from eating too much pizza.  I should make a blog post with all the funny things, the students have said to me while pregnant.  Maybe I'll get to that in December! 😉
This week, Andrew and I ended up taking a very early morning trip to the emergency room.  I would prefer to not go into all the details, but we did spend about four hours in the labor and delivery area of Maple Grove Hospital.  The medical professionals were not able to pinpoint a cause to the scare which meant that I had not gone into preterm labor or any other scary things.  Baby's heart rate was monitored the entire time and it was just perfect!   Although mommy and daddy were feeling scared that day, baby was happy as can be moving all around.  I saw another doctor on Wednesday to follow up and she ordered an ultrasound to make sure that the baby is growing appropriately and to check to make sure my cervical length is still good.  After the scare, I have been trying to take it a little more easy this week and resting when I can.
Here is the baby bump photo for the week: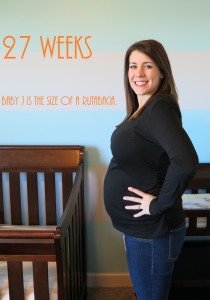 Here's what Baby Jones is up to this week: 
Baby is growing and is now the size of a rutabaga.
Baby's lungs continue to develop this week.
Sleep is becoming more regular for the baby.  He is asleep and awake at regular intervals.
Baby's brain tissue is developing!
Here's what is happening with me this week: 

Symptoms
The fatigue continues….I am not exhausted and napping like the first trimester, but I often feel like I need to lay down or sit after standing or walking for short periods.  My stamina has definitely decreased from what it was before pregnancy!
I have had a few other symptoms this week that we are checking in with the doctor.  I will have an update next week that will hopefully provide more reassurance that all is well!  🙂
Food Aversions
Food Cravings
My mom's homecooked Thanksgiving dinner!  I cannot wait to eat some mashed sweet potatoes (with toasted marshmallows on top) and stuffing!
Sleep
I am waking up every two to three hours, but falling back asleep a little better than last week.  I am resting a lot when I can, but not really taking many naps during the day.
Other Updates
We have our monthly appointment with our doctor on Wednesday, November 27th.  I will have an ultrasound, complete the typical 28 week glucose test, and meet with the doctor.
My mom and dad are visiting for Thanksgiving!!!  We are so excited to have them here with us during the holiday.
Our busy November continues as Andrew's best friend from college drove here from Madison, Wisconsin on Thursday and his sister flew in on Friday.  We have had a great weekend so far.  Andrew, Alan, and Erica braved the bitter cold to attend the Minnesota/Wisconsin football game at the outdoor TCF Stadium in Minneapolis.  The windchill was in the lower single digits during the game.  I chose not to go since I don't care about either of the teams and did not want to sit outside in the cold!  Although Erica is a Gopher, I am pretty happy the Badgers won.  Andrew isn't as fun when his team loses, so unless the Badgers are playing Indiana, I usually hope that his team wins.