What a week!!  I'm so excited to be in my third trimester of pregnancy!  I still can't believe how quickly it has all gone by!  I truly love being pregnant and experiencing our little guy growing each day.  There is a lot to cover for this week, so I'll get right to it!  It was a short work week for me as I only had school on Monday and Tuesday.  All of the teachers were ready for a break, but I especially was feeling like I needed some time to relax and rest.  On Tuesday, I ended up back to the doctor for an unscheduled visit due to a sudden onset of an urinary tract infection.  I was prescribed an antibiotic and told to drink lots of water.  I'm already feeling a lot better.
On Tuesday evening, my parents arrived to our house after a day filled with driving.  They drove here from Indiana to spend Thanksgiving with us.  Wednesday included the ultrasound that was scheduled last week after our health scare and the follow up with the doctor.  My parents, Andrew, and myself got the chance to see our sweet, little guy!  He looked perfect.  Baby Jones seemed to enjoy sucking on his finger.  During the ultrasound, my cervical length was also checked to make sure it wasn't shortening too early.  Thankfully, the length was appropriate and everything appeared to be exactly how it should be for 28 weeks.  Here are a few pictures from the ultrasound:
I think Baby looks like he has Andrew's nose and my lips!  We will see if my prediction is correct.  I have to brag, I think he looks so handsome already!!  I also had my glucose test during the visit and met with my doctor.  She stated that she has no concerns regarding the health of the baby or myself.  I was not placed on any restrictions which was something the doctor had mentioned could have been a possibility.  I am so thankful I can keep up with my activities and work for the time being!
The rest of the week was spent eating a lot of delicious food and spending time with my parents.  Of course, we had to put my parents to work while they were here too!  Andrew and my dad strung the Christmas lights outside while my mom and I put up the Christmas tree inside.  Baby Jones also received a few early Christmas presents.  My parents bought the baby lots and lots of presents that we will be storing in the basement until he's ready for them.  Here are a few pictures from their visit:
Here is the baby bump photo for the week: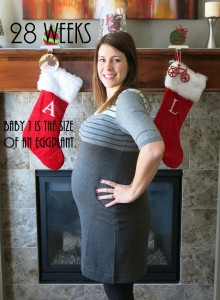 Here's what Baby Jones is up to this week: 
Baby continues to grow and appears to be a week ahead of my due date for growth!
Each day and week that passes means baby's lungs are developing more and more.
Baby can blink his eyes and suck on his fingers.
Baby is kicking up a storm!  He has become more active during different parts of the day (not just in the evenings).  I have watched my shirt or stomach move more frequently from his sudden movements.
Here's what is happening with me this week: 

Symptoms
I have felt less fatigued this week due to being able to rest more.
I have trouble standing or sitting for extended periods of time.  I tend to get very uncomfortable easily.
Food Aversions
Chicken
Almonds
Cheez-Its
Food Cravings
My food cravings were fulfilled this week!!  I had an amazing Thanksgiving meal on Thursday and my mom made biscuits, gravy, and fried potatoes for me on Friday.  The best part is she made so much I should have leftovers for awhile!
Sleep
My sleep hasn't changed too much this week except I have been able to rest more than normally.  I am still waking up every two hours or so.
Other Updates
Now that we are in the third trimester, we will begin seeing our midwife or doctor every two weeks instead of once per month.  My next appointment is scheduled for Wednesday, December 10th with our midwife.
Andrew and I have our first birthing class at the hospital on Monday.  We are hoping it provides a lot of information to us as first time parents.