Just to let you know, this post is a week behind schedule!  I will hopefully get caught up with the posts this weekend.  So for now, let's pretend we are back in the wonderful week 30!  I know I say this a lot, but I just cannot believe how quickly the pregnancy has been going by.  It has been such an amazing experience and I absolutely love being pregnant.  This week has been filled with lots of visits to the hospital, but for good reason!  We had birthing class on Monday followed by our routine 30 week appointment with our midwife and a breast feeding class on Tuesday.  The birthing class has been very informative and helpful to Andrew and me.  Our appointment with our midwife went very well.  I am still measuring one week larger than my due date which has been the case the entire pregnancy.  The baby's heart rate was between the high 120's and 130's.  The birthing class has helped us think of questions which our midwife was happy to answer.  Our biggest question was whether or not she would be involved in the labor and delivery of our little guy.  Our clinic only allows the OB/GYN's during labor and delivery so we won't have the option of using her.
I've also started really working on getting the baby's nursery ready for his big arrival.  The biggest task that we had left for the baby's room was cleaning out the closet.  We had been using it to store extra bedding for guests, suitcases, and about ten bridesmaid dresses from my 27 Dresses phase ("Always a bridesmaid…").  I cleaned out the closet, assembled an organizer, and moved all of the baby's things into his room.  I am so happy with how it ended up looking and how organized I could make it!  I love seeing baby's little clothes hanging!  Here's a picture of the closet: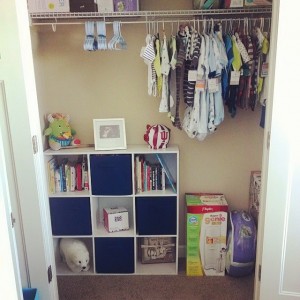 And here's a picture of my week 30 baby bump!  To my surprise and amazement, I did not gain any weight after eating all the delicious food at Thanksgiving!!  I have gained 17 pounds so far during the pregnancy which is right on track.  Although I didn't gain any weight in the last two weeks, I can definitely tell that my baby bump is growing!!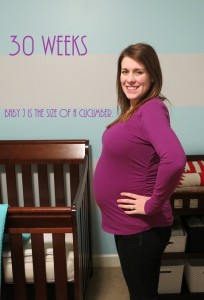 Here's what Baby Jones is up to this week: 
These are the weeks in which Baby's lungs and brain are making great developments.
The hair that was covering Baby's body to keep him warm is now beginning to shed.
Baby is strong enough now to grasp a finger.
Here's what is happening with me this week: 

Symptoms
My stamina is lower.  I typically need to take rests between activities or sit down after standing for too long.  My muscles have lost a lot of tone.  I'm hoping to get back to prenatal yoga and light weight lifting over winter break to try to get some arm strength back.
I have become pickier about my food again.  I have gotten nauseous a little, but mostly just very picky about what sounds appetizing.
The hormones have RETURNED!!  I have gotten very weepy lately.  I have cried over things that just don't make sense.  Thankfully, Andrew is supportive and doesn't get too freaked out.
Food Aversions
Chicken
Almonds
Cereal
Milk
Food Cravings
Salad
Pringles!
Blueberry muffins from Starbucks
Sleep
I am pretty tired by the time I get home from work so sleep is not a problem.  I have been waking up in the middle of the night thinking about all of the things I need to do before I begin my maternity leave.
Other Updates
Breastfeeding class went really well.  We learned a lot of information and are excited to have the opportunity to try to do it for the baby.
I am looking forward to only one more week of school prior to winter break!  12 days off of work sounds AMAZING!!