Hooray, it's week 31 and one week until my most favorite time of the year!  The doctor highly suggested that we stay home for Christmas as preterm labor could happen at any moment.  We didn't want to be away from home in case it were to happen even though we have no reason to suspect it could.  Andrew and I will be spending our Christmas in Minnesota at home together.  It will be my second Christmas in a row that I haven't spent it with my parents in Indiana and needless to say, I am a little sad.  Remember last week's post about the pregnancy hormones returning?  Well, I have been tearing up every time the Apple Christmas commercial comes on or any other sentimental commercial, news story, holiday movie, etc… I really am very happy even though it sounds like I'm crying a lot!
This week went by quickly as it is always a fun week at work.  The students were stir-crazy and ready for winter break.  I was able to get some much needed work completed prior to the break as well.  One of the biggest accomplishments I had this week was being accepted for tenure at my school.  Due to moving from out of state, I had to begin the probationary process at my school here in Minnesota.  I am currently in my third year as a special education teacher at my elementary school and have completed extensive evaluations each year as part of the probationary status.  This week I completed my final meeting with my supervisor and principal who both recommended me for continued employment and tenure within the district!
Another big accomplishment for me this week was being named the Ugly Holiday Sweater Contest champion at work.  There was a lot of competition from my fellow coworkers and principal, but I think the baby helped me win!  Here's a picture of my get-up, and yes, I wore this outfit all day at work on Friday: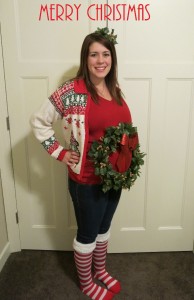 I don't know if I've ever mentioned, but my coworkers, students, and families of the students I work with are absolutely fantastic.  They are so sweet and have all been very excited for me during the pregnancy.  I thought I would include a photo of the generous gifts Baby Jones and I received from the students this year for Christmas: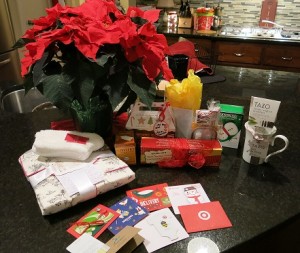 This week has also brought a lot of interesting comments from people regarding my pregnancy.  I've decided I look pregnant enough now that most people aren't worried to say something to me.  Here are some of the quotes from the week:
How did you get pregnant? – 6 year old
Can 19 year old's get pregnant? – 6 year old
Does your baby like McDonald's? – 7 year old
What does your baby want from Santa? – 8 year old
Are you going to be gone for like two days when you have the baby? – 10 year old
Women in your condition are the most beautiful of all. – random lady at Target
Are you about to go into labor? – rude salesperson at the Lexus Dealership
Here's the baby bump photo for this week:
Here's what Baby Jones is up to this week: 
Baby's five senses are working and his irises can detect light.
Baby is moving like crazy and loves to flip, kick, and punch.
Baby continues to plump up and gain weight to prepare for his big arrival.
Here's what is happening with me this week: 

Symptoms
I have started having Braxton Hicks contractions this week.  They are sporadic and normal at this point in pregnancy.  At first, it was startling, but I knew what to look for with real contractions so I knew these were just the "practice" ones.
Lots of emotions!
A little more fatigue.
Food Aversions
Food Cravings
Salad
Skinny Cow fudge bars – Andrew thinks I should send the company a thank you note as it has been such a delicious treat to me throughout the pregnancy.
Sleep
I am sleeping well.  I wake up often throughout the night (ranging between 3 to 5 times).  I have been able to get back to sleep right away except for the occasional nights where the baby keeps me up with his silly kicks and punches.
Other Updates
We have our 32 week appointment with our doctor on Friday.
We are looking forward to Andrew's parents visiting on December 26th.  It will be great to have family in town during our holiday break.
Andrew and I are busily putting the finishing touches on the nursery.  Hopefully we can post a reveal of all the cuteness soon!