First and foremost, Andrew and I hope you all had a very merry Christmas!  During my 32nd week of pregnancy, we spent much of the time relaxing at home.  It was wonderful to sleep in and stay in bed as long as I wanted!  On the 24th we went to a Christmas eve service at a nearby church.  After the service, we headed to our friends' home for Christmas eve dinner.  Dan and Jennifer have twin daughters that are 18 months old and recently announced that they are expecting again in June!  We had a great time at their house as always.  When we got home, Andrew and I were able to video chat Andrew's family during their annual Christmas eve dinner.  It was great to see everyone.  Christmas was a quiet day that started with a video chat with my parents, brother, and sister-in-law.  My mom had sent a large box of gifts and treats and I had sent their gifts to them as well.  We took turns opening gifts and chatting.  It was nice to see them at least by video!  (My brother was very jealous of all of the snow we have here.)
On the 26th we headed to the airport to pick up our Christmas visitors!  Andrew's parents made their first Milwaukee to Minneapolis flight to visit.  With the unpredictable winter weather, they had decided to fly instead of drive for this trip.  It was great to have them here.  The first day of their visit was spent going out to lunch and opening gifts.  On Friday, the second day of their visit, we had our 32 week appointment with the doctor.  She was very pleased with the baby's heart rate.  She measured my baby bump at 34 cm which is two weeks bigger than my due date.  She wasn't concerned about it and mentioned that a lot of factors could cause a fluctuation.  Our doctor's office is in the hospital in which I will deliver, so Andrew's parents were able to see where the baby will be delivered.  We even snuck a peak to the Family Birth Center floor of the hospital and saw a baby in the nursery.  Unfortunately while they were visiting, I came down with some type of virus that left me in bed with a fever, nausea, head ache, and sore throat.  I spent the rest of their visit in bed resting and drinking lots of water.  Andrew got to have a lot of special time with his parents!
Here's the baby bump picture for week 32!  The picture and post are a few days late since I was sick in bed from Friday afternoon to Tuesday.  (You may also notice that I got a haircut!  I needed a change prior to the baby's arrival and my stylist is going on leave soon!)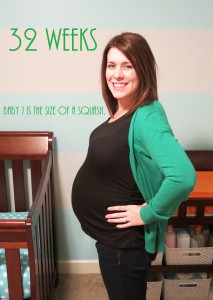 Here's what Baby Jones is up to this week: 
Baby is gaining about half a pound each week as he prepares for birth.
Baby is about 16.7 inches long and approximately 3 3/4 pounds.
Baby continues to move all the time.  He is a very active little guy!
Check out this link to watch a video of my baby bump moving like crazy.
https://drive.google.com/file/d/0B550L–AhUqdS3pmRnB6NzRfcEk/edit?usp=sharing
Baby has toenails, fingernails, and real hair that continues to grow.
Here's what is happening with me this week: 

Symptoms
The Braxton Hicks contractions have continued.  They can be uncomfortable at times, but are normal.
Being sick while pregnant was pretty awful!  The only medicine I could take was Tylenol which provided little relief.  I lost weight which left me feeling weak and nervous that I wasn't giving the baby what he needed.  Of course, the baby is perfectly fine and gets everything he needs.
I lost a pound from my last two week doctor's visit and another pound or two from being sick.  My total weight gain is down to 14 or 15 pounds.  The doctor isn't concerned, but I was given an anti-nausea pill to help with eating.
Hip pain!  I have had more hip and back pain from resting in bed so much.
Food Aversions
Chicken
Almonds
Pretty much anything while I was sick!
Food Cravings
Salad
Skinny Cow fudge bars
Outshine Lemon Fruit Bars
Sleep
Here's the same sleep status from last week: I am sleeping well.  I wake up often throughout the night (ranging between 3 to 5 times).  I have been able to get back to sleep right away except for the occasional nights where the baby keeps me up with his silly kicks and punches.
Other Updates
We have one more birthing class next Monday.
Our next appointment is with our midwife on January 10th.
Although Andrew has been working sporadically during the holiday week, I head back to work on Thursday (1/2).