Wow!!!  I am 33 weeks along with only seven to go until my due date!!  Andrew and I are so excited and anxious to meet our little one.  Week 33 has been a tricky one for me as I am still dealing with the lingering cold.  Being sick really takes all of the fun out of being pregnant!  I continue to use salt water gargles, humidifier, throat drops, popsicles, and lots of water to try to get rid of this cold.  Luckily, I only had to work two days this week.
Andrew earned the husband of the year title as he attended our birthing class on Monday by himself.  The doctor said that I was still contagious, so Andrew went to the class on his own!  It's just another sign of how great of a dad he will be and what a supportive husband he already is to me.  (My apologies for being so mushy, but it's true!)  I would definitely recommend a birthing class to first time parents!  Our class has been very helpful.  We have one more class this Monday.
Andrew had an opportunity to attend the Green Bay Packers playoff game today with his dad.  After some discussion, we both decided that it would be fine for him to leave me for the weekend for a voyage with his dad to Lambeau.  The timing worked out as I am at 33 weeks, but I think Andrew already knows that I won't be letting him leave the Twin Cities anymore after this weekend!  🙂
Since Andrew is out of town, I don't have my baby bump photo to add (I will add it to this post later this week)!  Instead check out this hilarious comic my friend Sarah sent me!  It is quite fitting with the frigid, arctic temperatures we're experiencing outside!  The weekly baby bump photo is at the end of this post!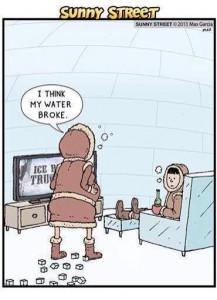 Here's what Baby Jones is up to this week: 
Baby is weighing over 4 pounds.
Baby is growing and measures over 17 inches long!
Baby Jones is still moving like crazy.  He likes it best when I can lean back or lay on my side.  It gives him the most room to move around.  At times, I think he may be trying to break out of my stomach the way he punches and kicks.
Baby has had the hiccups!  They are very sweet and happen about once a day or so.
Here's what is happening with me this week: 

Symptoms
The Braxton Hicks contractions have continued.
I have gotten out of breath more and more lately.  I'm blaming it on my cold and how much room our big guy is taking up!
I am still dealing with a lack of appetite.  I force myself to eat, but I certainly am not hungry all the time like I was before.
Food Aversions
Food Cravings
Salad
Skinny Cow fudge bars
Outshine Lemon Fruit Bars
Water
Cara Cara Oranges
Sleep
I am sleeping well.  I wake up often throughout the night (ranging between 3 to 5 times).  I have been able to get back to sleep right away except for the occasional nights where the baby keeps me up with his silly kicks and punches.
Other Updates
We have our 34 week appointment with our midwife on Friday afternoon.
The Minnesota governor canceled school for the entire state for Monday due to the extreme wind chills predicted.  I am so happy to have another day to rest and try to get over this stubborn cold!
Our final birthing class is Monday.
Here's the weekly baby bump photo: