Week 34 was a chilly one!  School was cancelled on Monday and Tuesday of this week due to the frigid temperatures.  I was happy to be staying home as I was still dealing with the stubborn cold.  Andrew and I both had a chance to practice waking up often throughout the night due to my nonstop coughing.  I am happy to report that I am feeling much better!
Andrew and I have been making some of the final preparations for the baby.  He worked on hanging shelves and artwork in the nursery and I have been washing all of our little guy's clothes.  We also had our routine 34 week appointment with our midwife.  The baby had a nice, strong heart beat ranging from the upper 120's to the upper 130's.  I also gained two pounds which means I gained back what I had lost while sick!  (Who knew I would ever feel so happy about gaining weight?!)  Our midwife measured my fundal height (aka: the length of my baby bump).  It measured to be 33 weeks which was a week smaller than it had measured at my 32 week appointment.  I was a little concerned by the measurement as I have always measured a week to two weeks bigger.  Our midwife ordered an ultrasound to check the baby's growth as well as the amount of amniotic fluid.  Of course, Andrew and I were not going to complain about getting another opportunity to see our handsome little guy!  We had the ultrasound early this morning.  Of course our little guy was just perfect!  The pictures did not turn out as well as the ones from week 20 and 26.  He is in the perfect position with his head down and has his feet curled up on my right side.  (No wonder I am constantly feeling kicks and movement on that side!)  One thing we noticed during the ultrasound is the baby's hair!  The ultrasound technician said that he has a lot of hair since it was so noticeable in the ultrasound.  I had a lot of hair when I was born, so our little guy may be taking after his mommy!  The midwife ordered the ultrasound as she was concerned that the baby may not be adequately growing, but the ultrasound proved very different!
Here are baby's 34 week ultrasound stats:
Head Circumference: 32.81 cm = 37 weeks 2 days
Abdominal circumference: 94 percentile
Estimated Fetal Weight: 6 pounds 9 ounces, 88 percentile
Gestational Age Based Upon the Ultrasound: 36 weeks 3 days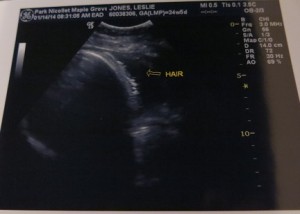 Here's the baby bump photo for week 34 featuring the shelves Andrew put up over the weekend!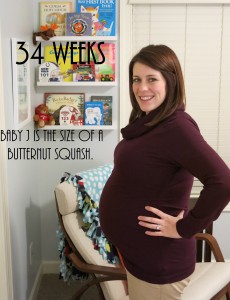 Here's what Baby Jones is up to this week: 
Baby is weighing 6 pounds 9 ounces and measuring two weeks ahead of schedule!
Baby's feet are 3 inches long!
Baby is urinating up to one pint per day.
Here's what is happening with me this week: 

Symptoms
I continue to have the Braxton Hicks contractions.  They have gotten more intense, but do not occur frequently enough to be concerned.
By the end of a day at work, I definitely have the waddle walk!  I am so tired and achey by 4:15pm.
I have more random aches and pains than ever before.
Food Aversions
Food Cravings
Salad (especially salad bars)
Skinny Cow fudge bars
Outshine Lemon Fruit Bars
Water
Cara Cara Oranges
Sleep
I have no problem falling asleep!  The only problem I've had this week is staying asleep.  I have been waking up 5 times or more due to needing to use the bathroom, drink some water, or because of muscle aches/feeling uncomfortable.
Other Updates
We finished our child birth class!  The classes were a great activity for Andrew and I to do together as we prepare for the baby.
Baby attended his first NHL hockey game on Saturday!