Week 35 is here!  We are getting closer and closer to the BIG day!  I have begun to feel the effects of one in the later stages of pregnancy.  The symptoms have left me requiring a lot more rest time.  I definitely have the nesting bug, but Andrew has been quick to tell me to rest and not overdo it with my cleaning, organizing, etc…
This week my school threw a baby shower for Andrew and me.  It was a lot of fun to celebrate the pregnancy and upcoming baby with my coworkers.  The special ed staff that I work with were the ones that hosted the shower.  They did an amazing job which means a lot since I know how busy they all are.
Here's the baby bump photo of the week: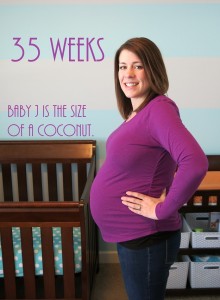 Here's what Baby Jones is up to this week: 
Baby has come close to reaching the length he will be at birth.
Baby continues to pack on the pounds.
Baby's liver and kidneys are functioning and his brain is still developing.
Here's what is happening with me this week: 

Symptoms
Oh boy, the contractions!!  Within the past few days they have increased in intensity and frequency.  They still seem to be Braxton Hicks, but I can definitely tell that baby is moving down.
My ankles, feet, and legs have decided to swell within the last week.  I am on my feet so much during the day and have been wearing my boots.  I am now wearing flats with no socks and getting used to having cold feet!  I also take warms baths every day to alleviate the aches and swelling.
Tears!!  I easily am brought to tears over the smallest of things.
Food Aversions
Chicken
Almonds
Pork chops
Food Cravings
Salad (especially salad bars)
Skinny Cow fudge bars
Outshine Lemon Fruit Bars
Water
Cara Cara Oranges
Sleep
I can easily fall asleep, but continue to wake up often (about every 90 minutes or so).
Other Updates
We begin our weekly appointments this Friday.  We will continue to alternate between our midwife and OB/GYN doctor.
After some research and referrals from friends, we have selected our pediatrician and office for the baby.