We had another cold week in Minnesota.  My school had a third "cold day".  I have been quite disappointed to be missing these days due to the cold since they will most likely be days that will be added that I will have to work at the end of the school year.  It has been nice to have a few extra days to sleep in, rest, and put the finishing touches on my maternity plans for my long-term substitute teacher.
This week we had our 36 week appointment with our doctor.  I gained 3 pounds!  I have had a much larger appetite along with the baby growing, so I figured I had gained some weight.  My baby bump measured at 37 weeks which is back to measuring bigger than how far along I am.  Everything seems to be going just as planned with no sign of labor any time soon.  We will have weekly appointments until baby arrives!  Our next appointment is on Tuesday with our midwife.
Here's the baby bump photo of the week: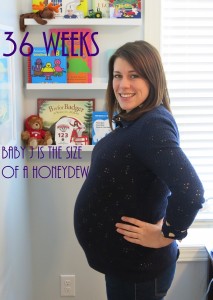 Here's what Baby Jones is up to this week: 
Baby is becoming closer and closer to breathing on his own.
Baby's circulatory and immune systems are developed.
Baby is moving all the time!
Here's what is happening with me this week: 

Symptoms
The Braxton Hicks contractions continue!
I have lots of aches and pains especially in my back and hips.
Food Aversions
Food Cravings
Salad (especially salad bars)
Skinny Cow fudge bars
Outshine Lemon Fruit Bars
Water
Sleep
I have been very very tired recently.  I have no problem falling asleep, but I usually wake up for long periods of time due to aches and the baby moving.
Other Updates
Andrew and I are almost completely finished with decorating the baby's nursery!  The only task left is for Andrew to hang some artwork on a wall.
We put together the pack-n-play which will be where baby will sleep for the first few months.  It is in our bedroom.  It is a deluxe pack-n-play since it has a changing table and bassinet.