It has been a cold winter so far in Minnesota!  During week 37, I had two more "cold days" in which school was canceled due to extreme wind chills.  Both "cold days" were spent working on getting my maternity leave ready at school.  My long term sub even braved the elements and met me at school last Monday to go over the important parts of my day to day job.  The "cold days" were also spent relaxing and taking naps (my favorite things to do during the last week!).
We had our 37 week appointment with our midwife as well this week.  It was a great appointment in which we got a few questions answered and got to hear baby's heart rate.  Of course, he was being quite an active guy which made it hard for her to track him down long enough to get a steady read.  My bump measured at 37 1/2 weeks.  At the appointment I asked the midwife if she had any clue as to whether I appeared like I may deliver early, late, or on-time.  Of course, she had no idea!  I explained to her how wonderful it would be if someone could just tell me so I could be even more prepared at work, but I suppose this will be one of many events that happen where I have to give up the control in planning.  Baby will come when he is ready!
Here's the baby bump photo for week 37.  You may notice the artwork on the wall; it was Andrew's last honey-do project for the nursery!  We are hoping to add a post with pictures from the nursery for those who may not be visiting soon and would like to see it!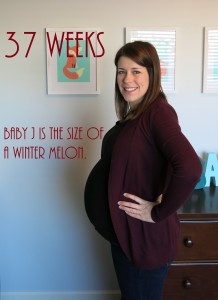 Here's what Baby Jones is up to this week: 
Baby is practicing breathing, sucking, gripping, and blinking.
Baby is gaining half an ounce every day!
Baby is still moving like crazy even though he's getting bigger and running out of room.
Here's what is happening with me this week: 

Symptoms
Oh my symptoms for this week!!  The Braxton Hicks contractions have actually decreased this week.  I typically only notice them during the evenings.
Leg, ankle, and feet swelling have continued on the days I am at work.  (It's almost impossible to keep my legs elevated while teaching.)
Heartburn and indigestion have become noticeable!  I rarely had these symptoms during all of my pregnancy, but now that we are in the last few weeks I am noticing it more.
I am becoming very tired very easily.  I also tend to become a weepy mess if I get overly tired.  Andrew has handled my fatigue and emotions with amazing patience and kindness.
Food Aversions
Chicken
Almonds
Most foods did not sound appealing this week as I was quite nauseous and feeling very picky.
Food Cravings
Salad (especially salad bars)
Skinny Cow fudge bars
Outshine Lemon Fruit Bars
Water
Sleep
I continue to be very tired and easily worn out by activities this week.  Work is becoming increasingly more tiring, so it was a bit nice that I only had to work three full days.  I tend to go to sleep very early, but have trouble staying asleep.  I am awake for hours on end trying to get comfortable to fall back asleep.
Other Updates
Andrew and I attended our friends, Jenny and Milan's, Indian engagement ceremony over the weekend.  It was really nice to be a part of witnessing the event as they prepare to marry in April.  Milan was a groomsman in our wedding and a good friend to Andrew for close to 8 years.  Unfortunately, the Indian food didn't settle well with my nauseous stomach and Andrew's picky appetite, so we stopped at a pizza place on our drive home to indulge in cheese bread and pizza!
Andrew and I have our 38 week appointment with the doctor on Wednesday afternoon.
Friday will be our first visit from a cleaning lady!  She is going to do a deep clean of the house so that it will be ready for baby's arrival.